← back to all Corporate Trainings
---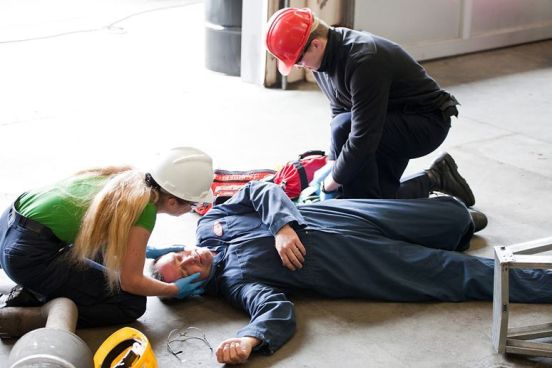 Emergency Care Readying
Course Info
·

The basic first aid course that

iandwe

is providing will enable participants to act as a back up to Occupational First Aiders in an occupational setting and/or respond to an emergency prior to the arrival of more qualified personnel

.
·

Participants will learn a range of practical basic first aid skills so that they can deal competently and confidently with common injuries at home, at work, during leisure time or in the community

.
·

Included in the training are the basic techniques of cardiopulmonary resuscitation (CPR) and the action to take in the event of choking for adults and children.
Course Format :
A Hybrid ( PhyGital) mode of offering spread as an Online-Offline-Online model.

Online Preplants: 4 days of Pre-Learning via our customized E-learning platform with dedicated impetus on Corporate Goodwill
Hands-On Workshops: 2 days of Campus-based Interactions (4 hours each) @ The Corporate Campus
Online SufPlants: 2 days of Post Learning via recognition and certificates.
---
Description
Workshop Duration: 10 Days (22 Hours)
Hands-On Duration: 02 Days (12 Hours)
Course Content/Topics Covered:-
•Accident scene management & casualty assessment
•Control of bleeding & treatment of wounds and shock
•Unconsciousness
•Heart Attack & Cardiac Arrest
•Recovery position
•CPR – adults, children and infants
•Injuries to bones, joints and soft tissues
•Burns & scalds
Course Ideal for:-
•Workplace
•Sports Clubs
•Parents, teachers, child minders
•Transition Year students
•General public
•Hospitality & tourism sectors
PREREQUISITE FOR WORKSHOP
·

Our courses offer a practical, hands-on approach that delivers the skills and confidence to use first aid skills in a real life situation.
Learners must:-
·

be physically able to carry out the practical elements of the course
·

attend all sessions to be eligible for assessment.
WHO COULD ATTEND?
All participants must attend this workshop
---
Contact Details
Contact Us in case of any Queries
Email :support@iandwe.in
Phone :+91-9916638787